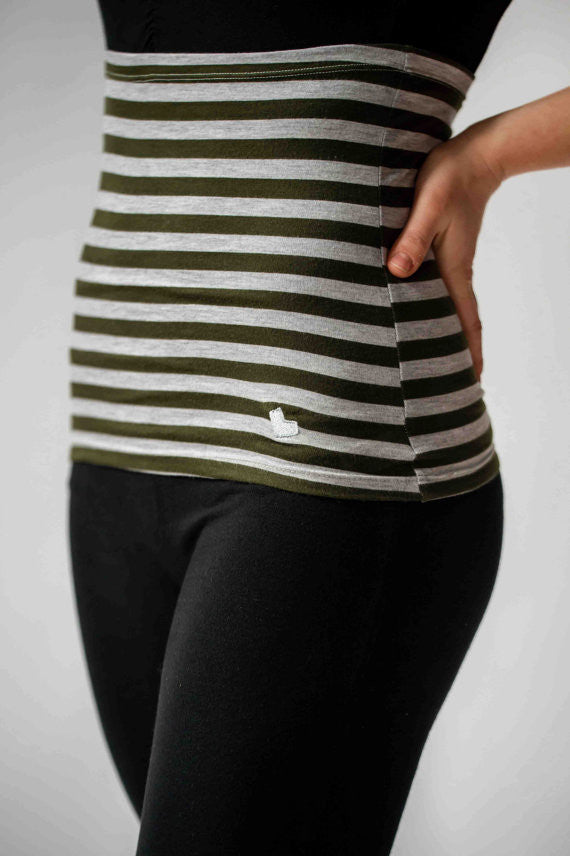 Women's Haramaki - Green Stripe
This light and stylish Japanese-inspired belly band is a favorite for layering. The stretchy poly/rayon blend works wonderfully under or over clothing, and will keep you comfortable and warm on breezy days.
60% poly / 32% rayon / 8% spandex

Available in: XS/S (0-4), M (6-10), L (12-14), XL (16-18) 

Please note that our stripes run a bit smaller than the rest of our collection. If you are looking for a very snug fit, we suggest sticking with your size. If you are looking for a regular fit, we suggest sizing up! If you are between sizes, then go for the larger one.

View our size chart.
Or contact us, we are happy to help!
SO WHAT IS HARAMAKI, ANYWAY?
Haramaki comes from the Japanese words hara, meaning the center of the body, and maki, meaning 'to wrap up', much in the same way a maki sushi roll is wrapped up. The haramaki originated as a form of Samurai armor, which gradually evolved into a special tubular garment worn around the midsection as a belly warmer.
WHY WEAR HARAMAKI?
Haramaki is worn to increase circulation in the internal organs, which generates warmth throughout the entire body. Once worn mainly as an undergarment in Japan, haramaki has seen a resurgence in recent years in Japanese fashion, serving as both a fashion and health accessory. Read more about the full range of benefits here.